Analysis courtesy of Hubspot and Impact +
They are an easy, on-demand way to learn and implement knowledge on your own and at your own pace — especially while social distancing.
In fact, In 2017, approximately 77% of US corporations used online learning, but 98% planned to incorporate it in their program by 2020.
That's nothing to scoff at!
These online educational platforms are a great place for both individuals and companies looking to train and educate teams within their organization.
With that in mind, in this article, we will be comparing two online learning platforms in the digital sales and marketing space, IMPACT's new IMPACT+ and HubSpot's HubSpot Academy.
IMPACT+ was released in May of this year, and HubSpot Academy in November of 2016. Both platforms are focused on hosting educational content and resources on topics in the digital sales and marketing space.
So, naturally, they have similarities but they also have some important differences. 
Below, we will explore each.
Similarities between IMPACT+ and HubSpot Academy
The most similar aspect of these two platforms is that they are both online learning platforms with a core focus on digital marketing, sales, and service.
Each one has a robust library of educational content aimed at helping you generate more revenue and advance your career and even share some similar topics like marketing automation and workflows, content strategy, HubSpot reporting, and video.
HubSpot Academy and IMPACT+ also both offer courses or lessons in the form of video. Each has options between shorter single-video lessons to longer, more in-depth multi-video courses:
Differences between IMPACT+ and HubSpot Academy
In these videos, knowledgeable instructors provide comprehensive coverage on the topics and incorporate visual aids like live demos and exercises.
They both also included related blog articles to help provide users additional support on the subject matter.
Now let's get into what differentiates the two.
Subject matter
HubSpot Academy is a robust online learning platform (with over 300 lessons and courses), but it does have some shortcomings.
For instance, many of its courses are more entry-level. For example, many courses are described as introductions to things like marketing automation, social media, digital sales, etc. and include tips for initial campaigns set up.
But once you get beyond that experience level, there isn't much else for you to explore.
This makes them likely most beneficial to those just getting started with inbound marketing and sales, but they may miss the mark when it comes to going deeper into a topic or providing more advanced guidance.
Another thing to consider is that, unsurprisingly, many HubSpot Academy courses are specific to HubSpot, or catered to those who are using HubSpot.
While there are definitely some courses and lessons that are more general and can be applied to other tools, it's important to keep in mind that you will be getting HubSpot's approach to things in these videos.
IMPACT+, on the other hand, is centered around one main goal: results. 
This means that IMPACT+ courses are geared towards providing specific, actionable takeaways that will increase results now rather than focusing on understanding how to use specific tools. (Although there are a few tool-based courses in there, as well.)
To support this, IMPACT+ includes an interactive scorecard and strategy roadmap to help your company evaluate exactly where it is today, and what specific steps need to be taken to drive the sales and marketing results you're striving for:
Another added bonus of this scorecard is that, if you have your whole team in IMPACT+, each person can evaluate your company's current digital sales and marketing performance from their perspective. That way you are all fully aligned across the entire company as to the reality of your performance.
IMPACT+ does have fewer courses than HubSpot Academy, with 23 currently live, but since this platform just launched in May, that is to be expected.
We do plan to release new courses in the next few months and the team has no plans of slowing down when it comes to producing new content.
HubSpot also focuses on the inbound methodology as the foundation for most of their content, while IMPACT+ is niche to the They Ask, You Answer approach.
While these approaches overlap and share common core principles, there are some key differences that lead to unique content from both sides (check out this article Inbound marketing vs They Ask, You Answer).
Community and engagement
Another difference between the two platforms is their approach to community and engagement.
An interactive community element can bring tons of value to software users, but especially to those learning online.
Having discussions with other people learning the same things helps users enhance their knowledge by applying it and learning how others are as well. This is essential when learning a new skill especially when we are socially distanced.
This engagement also provides an avenue to discover new professional opportunities and allows for back-and-forth on questions and roadblocks you might be facing.
That's why IMPACT+ acts as an entire learning community.
HubSpot Academy, as an online learning platform, only contains courses and has a separate platform for discussion, called HubSpot Community.
But this forum isn't dedicated to the academy.
HubSpot Community is rather a catch-all for HubSpot discussions, primarily focused on solving issues or roadblocks within the software.
On the other hand, IMPACT+'s community aspect includes role-based discussion boards that encompass all topics digital sales and marketing, virtual peer groups, as well as threads on the individual courses themselves: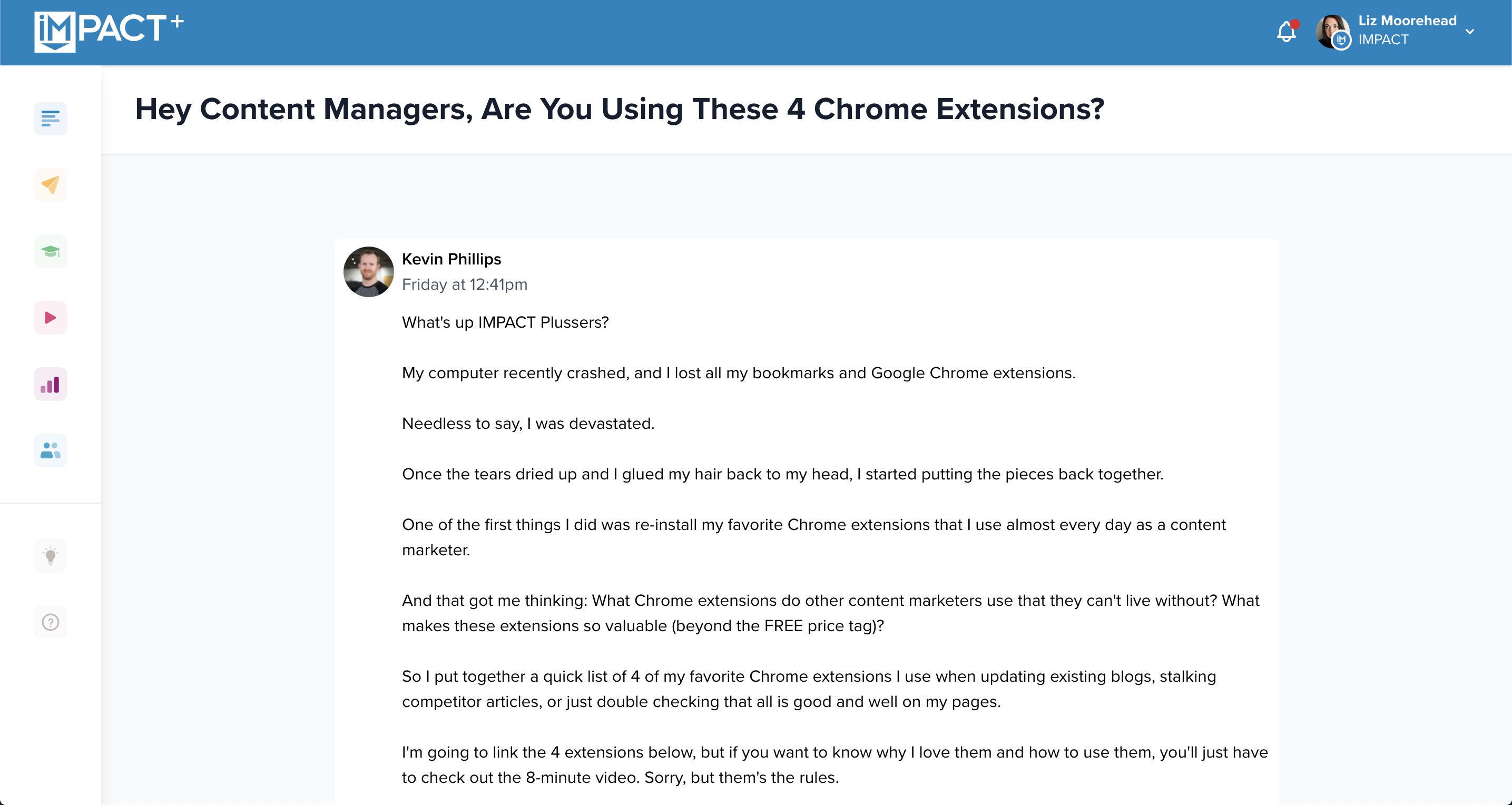 These community aspects make it easy for users to engage, ask questions, and collaborate on course material.
Additional resources
In addition to course materials, IMPACT+ provides access to all recordings from every past IMPACT event, ever (both in-person and virtual events).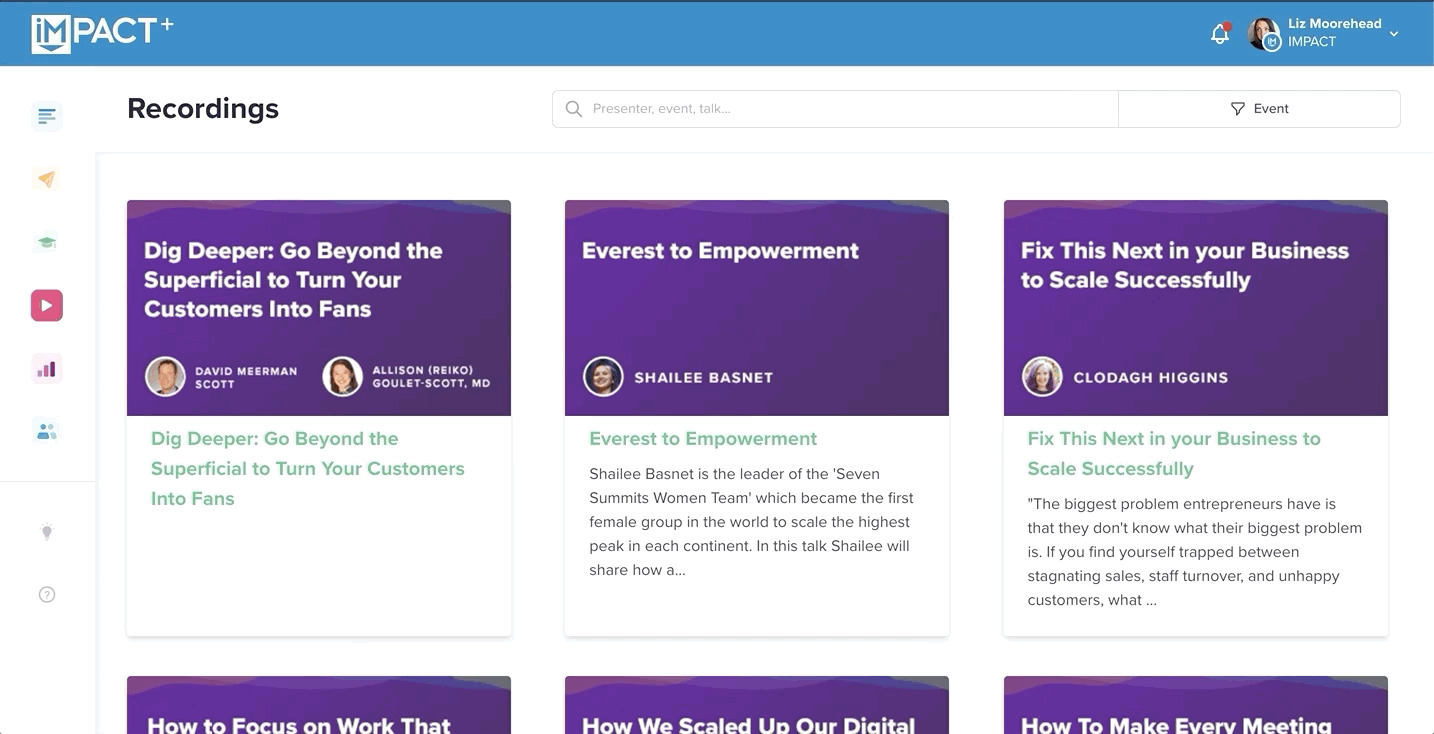 These recordings include education from over 100 speakers, (and 75 keynotes from world-renowned speakers like Brian Halligan, David Meerman Scott, Ann Handley, and more.
While HubSpot releases its past keynotes and spotlights from INBOUND events, it does not always release the more tactical sessions.
Price
In HubSpot Academy, once you create your free academy account you are able to access all courses and lessons.
IMPACT+ has two pricing tiers, free and pro:
The free version provides access to all of the foundational courses and resources, roadmap and scorecard features, as well as access to the community discussion forums.
Advanced courses, access to private virtual peer groups, and team roadmap and scorecard visibility are available when upgraded to a pro account.
Which platform is right for you?
Overall, IMPACT+ and HubSpot Academy are both robust online platforms focused on the same core principle: education.
The way they provide that education may look a little different, but as we discussed, each has its strong suits and areas where it is unique.
HubSpot Academy may be better for HubSpot-specific users or those who are just getting into inbound or digital marketing and are looking for that entry-level content.
IMPACT+ may be better for those who are not only looking for high-level education but also tactical strategies to implement now and strategic topics with long-term plays.
IMPACT+ is also going to be great for those who want to connect with others focused on digital sales and marketing and They Ask, You Answer.
Both platforms have free options, so try them both out! Explore them and see which has content that aligns with your goals and that you believe can help you move the needle.